As the ABC Collectors programme knows very well, people collect all sorts of stuff. One particular line of collectible that doesn't turn up very often is corrugated iron.
Almost immediately after it was invented sometime in the early 1820s by Henry Robinson Palmer, a British engineer and naval design, it rapidly became a popular lightweight building material (although the early corro was very thick – sometimes up to ten times its usual thickness nowadays – which gives a clue of the age of any really old corro you might find.
It's hard to credit but there are still a few snobs around who sneer at it for being  'too industrial".  Get a life, I say – or else you try lifting 2 square metres of roof tiles in one go and see what you think then… Corrugated iron is fabulously efficient, strong and effective building material that we here at the Institute like to celebrate.
So it was with great pleasure that I recently met Wayne Rabone, one of Australia's small number of corrugated iron collectors, Wayne, a demolition contractor who lives in Kaniva in Western Victoria, has easily the biggest collection I've ever seen. Being a demolition contractor must have a few advantages in this line of collecting.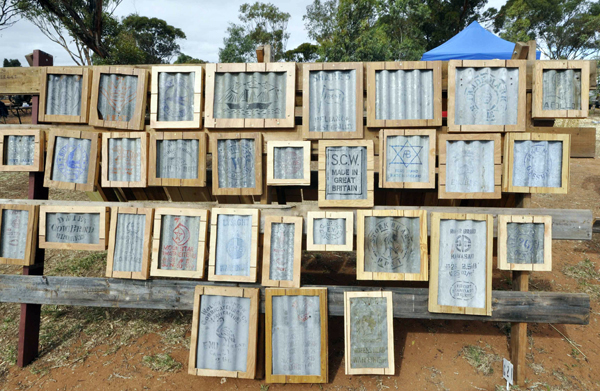 Wayne reckons there are about 10 other people around who collect pretty seriously.
If you are of a similar mind or have a piece of iron that might interest him, his contact details are:
Wayne Rabone, 5 David St., Kaniva Vic 3419
Ph 03 5392 2442, Mobile: 0408 922442
Also my good friend Don Morrison makes steel bodied guitars out of old flattened corrugated iron sheets and is always on the look out for nice old logos and so on. We've been working on doing an old fashioned Donmo logo to spray on some new iron but am having trouble finding the right ink (it's not a paint by the way) that can penetratev the zinc/steel. The stuff that they were using 100 years ago must have been pretty amazing. Anybody got any suggestons?
Mark Thomson