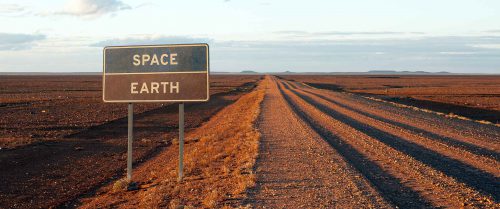 As Advanced Research Director for the Institute of Backyard Studies, Mark Thomson travels extensively through the remote Australian bush. On his many expeditions, he would occasionally notice the odd road sign that did not seem quite right or seemed to hint at a higher purpose than mere directions.
Did these signs have a common origin?
After much research and with the support of colleagues from the Speculative Histories Laboratory, accumulated evidence revealed a curious narrative that is even stranger than fiction.
It is the account of Wayne Sartre, a lonely council grader driver, who came to know the powerful effects of isolation and of far too much deep thinking whilst driving a slow-moving vehicle.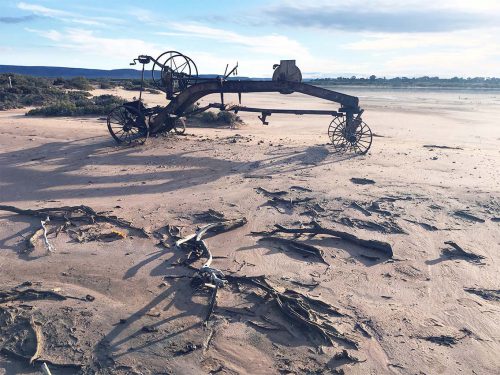 Wayne Sartre, rural council council worker and philosopher, seems to have been the outcome of an error in travel bookings in the early 1960s.
According to Wayne's own account, his father Jean Paul – a Frenchman of some notoriety – was mistakenly booked to fly to an academic conference in Austria.
When Monsieur Sartre landed in Darwin in 1962, he slowly realised he was not in Vienna but in a place called Australia. He soon booked a return flight to Paris – which  entailed a waiting period of several days.
In those few Darwin days, he met and had a brief passionate love affair with Doreen Wungadeer, a woman he described as "having great and strange powers".
Wayne was apparently born of that liaison. The father kept a distant interest in his son, intermittently sending reading matter which the young Wayne, eager for the approval of his invisible father, would read and ponder upon greatly.
Australia presents few career options for the remote self-educated philosopher and Wayne eventually found work as a bush council grader driver – a notoriously isolated occupation but one which presented ample opportunities for long periods of deep contemplation.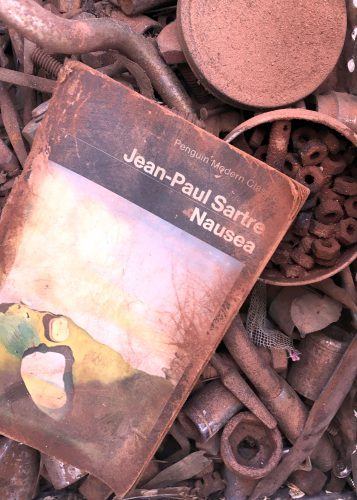 As a result of these meditations, Wayne would occasionally sneak into the council sign workshop at night and fabricate signs which he felt would be of genuine benefit to the thinking traveller.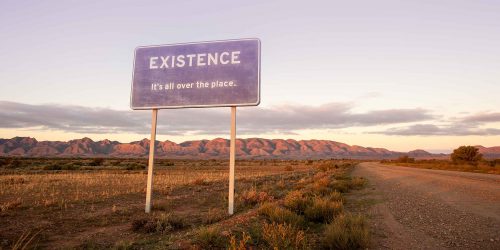 There are precious few of these signs left and they have been collected here for posterity. There are almost certainly more to be found out there somewhere.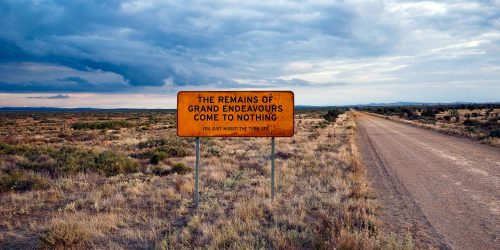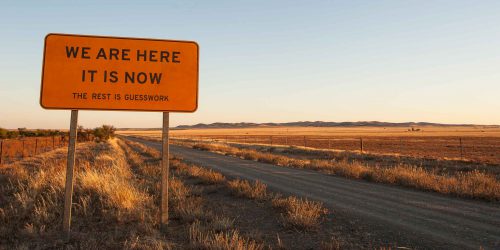 No-one knows for sure where Wayne is now. Some say he harvests sandalwood in Coolgardie, Western Australia. Others are certain he regularly drinks at the Cooktown pub in Far North Queensland.
Either way, if you meet him he's definitely worth having a yarn with, especially about the uncertain consolations of philosophy.
Mark Thomson
The original full sized signs and the photos of them in situ are available for exhibition by enquiry to mark@ibys.org or by phoning 0419865821. Individual photographs are available for purchase through these contacts.
The large poster (30 x 120 cms) for the  Advice to Travellers exhibition in 2017 (below), which incorporates photos most of the current signs on it, is also available for a modest price through Ebay.

Mark Thomson wishes to acknowledge the generous support and assistance of the Speculative Histories Laboratory in this project.