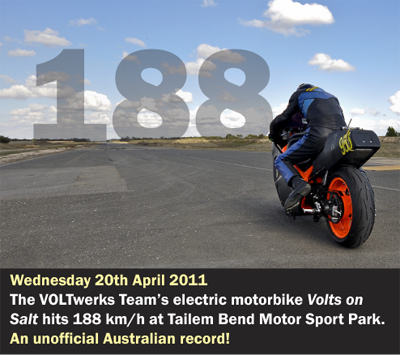 After a year of shed work and being rained out of the annual Dry Lakers Racers event on Lake Gairdner a couple of weeks ago, Volts on Salt (VOS), the VOLTwerks electric motorbike, had a fantastic run at the Tailem Bend Motorsports Park. In the second of three runs down the 1.3 km straight track (it's the old Mitsubishi test track out in the scrub), VOS cracked 188kms/hr – some 12 kms/hr more than the current official Australian electric motorbike speed record.
It was the first time VOS had ever really opened up on a real track and it was stunning. The first run reached 133kms/hr and after some computer analysis and tweaking by boffins B1 and B2, the second run was breathtaking. As soon Spog and VOS pulled away and vanished almost silently into the distance, we knew that history was being made. It was inspiring stuff. Burt Munro was looking down at us from motorbike heaven – and we were all over the moon.
The Institute of Backyard Studies is proud to sponsor the VOLTwerks crew – we've seen them go through it all and come out looking like winners are grinners. A true victory for shed science! Stay tuned for more!!!
There is more!!! Sunday 8th May 2011
AT a Dry Lake Racers Association test day at the same track at Tailem Bend, VOS1 had another run and reached 208 km/h (unofficial time). All this on a track only 1.4kms long on which VOS1 has to accelerate up to speed then slow down again before the track runs out. The Lake Gairdner test track is at least 10 miles long – but we can't get up there for some time because of unseasonal weather problems.
The hunt is on to find another alternative high quality test track at least 3 kms long. In the meantime, as the officially unofficial speed recorder holders, Spog and the team are completely stoked!
Mic Chapman has made a fantastic Youtube clip – check it out.